Stop Your Women's Leadership "Journey" and Start Your Integrated Women's Leadership "Plan"
It's time for tough love and a look at your women's leadership initiative.
Several years ago, I was at my first national diversity conference, when I heard a Chief Diversity Officer talk about the company's progress vis-a-vis gender diversity.
He said the company was on a diversity "journey" and that ten years after setting forth a strategy, they were now beginning to see progress when it came to advancing and retaining women. He reported that the percentage of women in their firm had grown by almost 40 percent and women represented almost 18 percent of their C-Suite.
At first, I was encouraged. It was good to know that companies were making progress, setting strategies, and measuring success. Yet, as I listened, I became more and more disheartened.
It had taken that company A DECADE to drive a 40 percent increase, yet women were still less than 25 percent of the leadership.
Something else dawned on me that day; it was that diversity officer's use of the word "journey."
That word was echoed by many of the people in attendance that day–brilliant, hard-working diversity practitioners defining their effort in advancing more women and minorities as a "journey."
I still hear that word used today to describe how companies are undertaking their gender diversity initiatives.
And every time I do, I think back to my days in sales and how the field approached their goals and initiatives. I have never been on a "sales journey." If you don't make your sales goals for two quarters, you're probably going to get fired!
People go on journeys;
Organizations implement long-term strategic plans.
So, here's an idea for diversity practitioners, HR professionals, and organizations on how to make the diversity dialogue more powerful:
Senior Leaders have to stop saying "journey," and instead say "we are on year two of our five-year strategic diversity plan…"
This immediately changes the dialogue to be much more powerful and demonstrates action and accountability.
To infuse urgency in diversity initiatives and drive palpable change, you have to also use more urgent words like "imperative."
Change is "Imperative." It Begins NOW!
This was the main purpose in writing my book: WHY Women. I wanted leaders to embrace an integrated organizational approach to women in their organization. Not because it is a nice thing to do but because it is an absolute business imperative. Leadership today conceptualizes diversity strategies but few companies treat it like a true business imperative and attack it with a true sense of urgency!
As such, we, as diversity practitioners, need to speak in business terms that leaders truly listen to.
Women Are a Business Imperative
Today there are four critical reasons to implement a women's leadership strategy: Grow Revenue, Improve Operating Profit, Enhance Your Corporate Reputation and it's What Great Companies Do. Everything you do must link to one of these drivers.
Women Help Grow Revenue: With an incredible $7 trillion in national purchasing power, according to sheconomy.com, women drive or influence purchasing decisions in every household — from groceries to furniture to new cars — women are the economic drivers.
Women Improve Operating Profits: Externally, with increased revenues, come better operating profits for companies. Internally, the way to boost operating profits is through getting and engaging the right talent. This includes the mix of talent as well as increased worker productivity. Additionally, Gallup's ongoing survey of employee engagement has consistently shown that women tend to be more engaged workers than men and that workers who work under female managers tend to be more productive. Based on the Gallup research, workers with flexible work arrangements (hours, onsite/offsite) are more engaged, committed and put in additional hours for their employer. These findings should provide any company the boost they need to throw their weight behind women's advancement programs and flextime.
Women Enhance Company Reputation: In an increasingly interconnected world, your company has to build and maintain trust, transparency, and its reputation with its consumers. And as reported by she-conomyy.com, with 85% of most consumption being driven by women, it's fair to extrapolate that 85% of your company's reputation is in their hands (and heads) as well. Women account for 85% of all consumer purchases including everything from autos to health care:*

91% of New Homes
66% PCs
92% Vacations
80% Healthcare
65% New Cars
89% Bank Accounts
93% Food
93 % OTC Pharmaceuticals
58% of Total Online Spending
(Source: Greenfield Online for Arnold's Women's Insight Team)

http://she-conomy.com/report/marketing-to-women-quick-facts
It's what great companies do.
Given these stark realities, your company's Women's Advancement Program needs to start TODAY.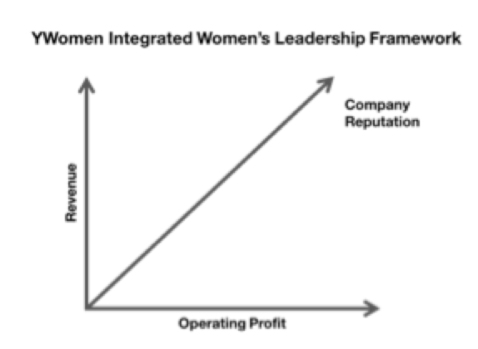 You might wonder where to begin! You're in luck, my book, WHY Women, offers a framework to build your women's program. Based on my experience in corporate America and working with clients in a range of industries you need three elements to build a successful program:
A written plan detailing your company's baseline business case for women
Engage all functional areas -- Sales and Marketing, Operations, and Supply Chain, Human Resources and Senior Leadership
An Integrated Communications Plan for internal and external stakeholders.
My key message is that for any women's advancement program to produce real outcome, you need to engage men as champions and visual advocates who recognize the value of women as the cornerstone of organizational success. They must be leaders who get it and walk the talk every day in their actions and communications.
Jeffery Tobias Halter is the country's leading male expert on advancing women and engaging men. He is a TEDx speaker, Huffington Post Blogger and the author of two books, WHY Women, The Leadership Imperative to Advancing Women and Engaging Men and Selling to Men, Selling to Women. @YWomen.