When Your Career Path takes a Detour!
By Jaymie Woods
I knew it as soon as my boss walked into my office at a major Oil & Gas company.  The look on his face told me that after 16 years, I was one of the 400 employees being laid off. Many are experiencing similar unexpected detours in their career, while others are contemplating taking a new path.  Regardless of where you are in your journey, or how you landed there, my tips can help you find your way. 
Step 1-Get your mind right!
You can't successfully move forward if there is any anger, bitterness, self-pity or any other negativity in your heart. If it's there it will ooze out of you when you interact with others, especially when networking or interviewing for a new job. Fortunately, I actually felt good about being laid-off, as I knew it was past time for a change but on my own, would not have left my comfort zone.
Step 2- Inform the masses!
Utilize this as an opportunity to reconnect or touch bases with old acquaintances via social media, email, in-person and over the phone. I never felt valued until I was laid off. There was an outpouring of love that really helped keep my spirits high. People will want to help you and offer assistance, so work that network. Also, take advantage of opportunities to expand your network online and in-person.
Step 3- Take a moment!
I was blessed with a nice severance that allowed me to take time to reassess my Iife and career goals and take a good look at myself.  I had been with my employer since college, and realized that I hadn't had more than 2 weeks in a row off of work since 1999. So I decided to take a year-long "mid-life break" to explore my power, passions and purpose!! I dyed my hair blonde and told everyone that I was "Living My Life Like It's Golden"! I created a business, dabbled in some projects, volunteered, spent time with family & friends and traveled internationally to 13 cities in 9 countries.
Step 4—Try a New Saddle!
Regardless of how much of a break you take, eventually you have to "get back in the saddle" and go to work. I decided to utilize my HR and Diversity experience but focus it in a new direction.  During my travels to Dubai I took a Change Management certification course and am pursuing a new career.  My new found love of travel has also led me to become a travel agent. Another former HR co-worker decided to get her Real Estate license and is now selling commercial and residential properties. Don't feel obligated to return to the same type of job, at the same type of company, in the same city or even the same country! If you are able to try something different, do it! You can always go back to what you were previously doing if it doesn't work out.
While white water tubing on a recent trip to Costa Rica I was tossed out of my tube by the first major rapid. I was alone, I didn't speak the language, I was shocked, and scared to be standing in the middle of an unfamiliar place—just like when I was laid off!  Placing my tube on top of me, I floated on my back until I reached calmer waters . Eventually someone came along , steadied my tube , and I jumped back in and continued my journey. In both cases, I had literally fallen, but most importantly, I got back up and kept on moving! So, whether my post-layoff plan works for you or not, it's ok.  Take some time, find what does but most importantly, keep moving!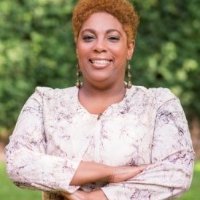 Jaymie Woods

Jaymie Woods is Founder and Principal Consultant for L.L. Gold Consulting LLC which she created post-layoff to utilize her expertise in human capital, change management, diversity & inclusion and career transition coaching to enhance individual and organizational outcomes. Contact Jaymie at [email protected]