Learning to Make Large Goals More Achievable
By Pam Ebel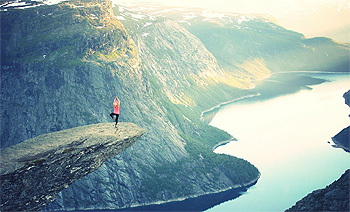 One of the most daunting tasks that I faced as I began my career journey was two-fold. First, I had to decide on my long term goals. Secondly, along the way, I had to decide if I wanted to continue on the original path or change course. After much trial and error I have developed an approach to that will hopefully be helpful to everyone starting or currently making the journey to fulfilling large goals..
Avoiding "The One Right Answer":
Most of our educational experiences have taught us to look for the one right answer. It is a "teach to the test" approach that unfortunately does not account for the fact that life is ambiguous and frequently awash with many "right answers" and often "no right answers". So it is too with goal setting. Assuming that the first goal or list of goals are the only "one right answer" is a mistake to avoid. Before setting career goals in stone let's take time to assess our personal life. Ask two very important questions: What do I want on my tombstone? What do I want to leave to those I love, to those whom I respect and to the world I will leave behind? The answer to these questions will start us on the career path with those large goals defined.
Goal Orientation:
In order to make our long term goals achievable we must first, and foremost, write them down so that we can take a long hard look at what we think we want. Far too many of us keep our goals in our heads, perhaps every once in a while sharing them with those whose opinions matter to us. But only when we see those goals memorialized in black and white can we begin to consider their validity to the world we wish for ourselves. By creating a hard copy of the goals we are making a statement that this is the reality that we are striving for and the road map that will help us recognize the difference between career intersections and crossroads.
Tweaking the Goals Road Map:
Once we have examined our current situation and fleshed out an action plan we need to be sure to keep that hard copy front and center. From this point on we will engage in a constant re-examination of the goals to determine their relevance and attainability in our current situation. One of the biggest mistakes people make on the journey down the career path is failing to look inside themselves on a regular basis to see what impact time and events; both professional and personal have had on the long term goals plan. We need to have what has been defined as "situational awareness". We need to define for ourselves whether our perception of the current situation is correct and to seek affirmation of that "reality" from those we trust. Then we use these tweaking methods to continue on a path that is flexible enough to address whatever changes occur and that will make large, long term goals achievable.